The national forest of Guînes

in Pays d'Opale
A preserved natural setting for escape and discovery.
Whether you are on foot, by bike or on horseback, take a breath of fresh air by taking the paths and trails through the 785 hectares of the Guînes national forest.
Autumn in the Guînes national forest
"Let yourself be carried away by the fascinating magic of the Guînes State Forest when finally, slowly, Autumn sets in with its reddish colors. Imagine yourself stepping on the crisp leaves with every step you take. Shhh, at the crossroads of a path a deer appears, she feasts with buds on which it is possible to see droplets of the fresh morning dew. His coat shimmers through the beams of light passing through the thick mass of the forest. A marvelous meeting, a crossing of glances, a single feeling vis-a-vis this beauty of nature. Oops, a twig snap and 4…3…2…1… she sits up, ears erect, and disappears into deep nature. A rain of leaves fly and fly away with the wind, chestnuts make their way onto the colorful flowerbeds to the delight of the little creatures licking their lips. The rays of the sun play hide and seek with the birches, the ash trees, the beeches or even the century-old fir trees which have braved the moods of the changing weather over the seasons and which are still there, standing proudly in this immensity. The songs of the birds resonating on both sides around you will give you the impression of being in an enchanted world, out of time, and will allow you to disconnect for a walk. »
Nolwene HENQUEZ
Office de Tourisme Pays d'Opale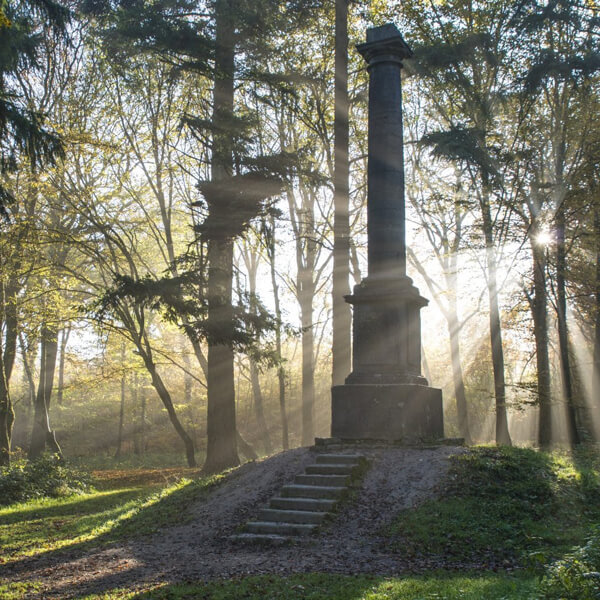 Here was the landing point, in 1785, of the first air voyage over the sea. On January 7, 1785, after leaving Dover, aeronaut Jean-Pierre Blanchard and Doctor John Jeffries crossed the English Channel in a balloon inflated with hydrogen. The colonne Blanchard is the memorial erected in their honor at the spot where they landed that day, in a clearing in the forest. This historical moment gave its name to this part of the wood: The Bois de Ballon.
Nothing like long walks, to get some fresh air and to contemplate the varied landscapes of the Guînes forest which offers you an ideal setting. The multiplicity of paths and the freshness of the trees invite you to family or sports walks, on foot, on horseback or by bike.