Mayor
Marie-Andrée ROHART
Address
90 rue principale,
62850 Herbinghen
Herbinghen is a French commune located in the department of Pas-de-Calais in the Hauts-de-France region.
Its inhabitants are called herbinghinois.
Our schedule
Monday: 10:30-12:00
Tuesday: closed
Wednesday: closed
Thursday: closed
Friday: 17:00-18:30
Saturday: closed
Sunday: closed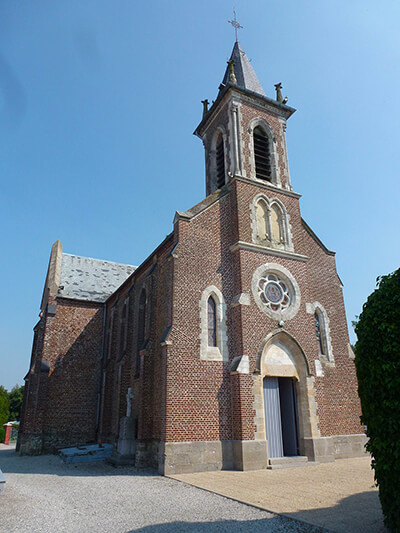 — The Saint-Riquier church
The church opens through a door with a pointed arch. It is surmounted by a stained glass rose with two blind twin bays. The bell tower has four pinnacles. The nave has three naves and a high, projecting transept. All bays are ogive shaped. The covering of the three-sided choir is at the same level as that of the nave. Everything is made of bricks and slates.
The Saint-Riquier church is a reconstruction; it dates from 1859 and was made by Charles Leroy, an architect from Lille advocating a return to Gothic architecture (1816 – 1879).