Address
277 rue de la Chapelle,
62610 Brêmes
Brêmes (sometimes called Brêmes-les-Ardres) is a French commune located in the department of Pas-de-Calais in the Hauts-de-France region.
Surrounded by the municipalities of Balinghem, Ardres and Nortkerque, Bremen is located 14 km south-east of Calais, the largest city in the area.
Located 5 meters above sea level, the Balinghem stream, the Brêmes stream are the main rivers that cross the municipality of Brêmes.
Its inhabitants are called Bremois.
Our schedule
Monday : 9:00-11:30
Tuesday : 9:00-11:30
Wednesday: 9:00-11:30
Thursday : 14:00-16:00
Friday : 9:00-11:30
Saturday : fermé
Sunday : fermé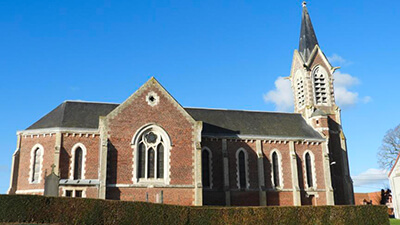 The parish and municipal councils therefore decided to demolish this building and rebuild one. Work began in 1878 and was completed after many ups and downs in 1885.
It is a red brick building of the country, its design is cruciform, a fairly large nave, two aisles and a choir surmounted by a bell tower.
The interior of the building has a very rich appearance. The centerpiece of the furniture is indisputably the altar and its altarpiece entirely carved in wood and from a recent period (1925). On either side of the nave are two altars on which rest Saint Mary (on the left) and Saint Joseph (on the right).
Two other altarpieces are placed on the floor, in which are embedded two statues (Saint Thérèse and Saint Martin)